Christmas Tree is a location that takes place under a Christmas tree, surrounded with seemingly millions of wrapped gifts. The main floor consists of a white decorated carpet with a train driving around in a circle. The face of the train is very similar to that of Charity. The arena is placed with an artillery filled tank, that can be powered on with a Battery. Many of the Alphanumeric Blocks can be used to climb over to other presents. Missile Fest  is commonly used on this arena to cause mayhem and destruction.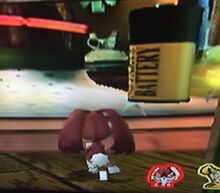 There is a Battery in the level that is only usable and obtainable in this arena. It is placed on the pink present box right of the alphanumeric cubes. This battery is especially used for the Spank Tank to cause other players annoyance and destruction. Be the first to grab the battery to refrain from being victim of the Spank Tank!
Ad blocker interference detected!
Wikia is a free-to-use site that makes money from advertising. We have a modified experience for viewers using ad blockers

Wikia is not accessible if you've made further modifications. Remove the custom ad blocker rule(s) and the page will load as expected.