Lance is one of the Whacked! contestants, unlocked by successfully completing Stage 1 in Game Show Mode. He appears to be a purple cat, possibly a lion. He likes swinging on vines and lifting weights and barbels.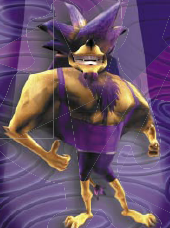 Lance

Name

Lance

Skin color

Purple/Light brown

Enemies

Van Tastic

Friends

Lucy, Lucky (possibly), Eugene (possibly)

Likes

Admiring his own body

Dislikes

People not laughing at his jokes

Special Power

Multi EL Vampiro

Eye Color

Unknown

When playable

After completing Stage 1

Species

Lion
Ad blocker interference detected!
Wikia is a free-to-use site that makes money from advertising. We have a modified experience for viewers using ad blockers

Wikia is not accessible if you've made further modifications. Remove the custom ad blocker rule(s) and the page will load as expected.