Ah come on, It's gotta be in here somewhere. -Lucky looking for his foot.
Lucky

Name

Lucky

Skin Color

Red/Light Brown

Enemies

Eugene, Van Tastic

Friends

Unknown

Likes

Guns,Violence,Winning

Dislikes

Van Tastic,Eugene,Disrespected,Losing

Special Power

Turns into a tornado and tosses players around sucking up any stars next to him

Eye Color

Hazel

When Playable

At The Start Of The Game

Species

Rabbit/Bunny
Lucky is one of the Whacked! contestents. He is unlocked from the start.
Personalty
Edit
Lucky is a grumpy rabbit. Ever since he lost his feet to a good luck charm company, he has been furious about it. He angers easily, and is the only one who stands up to Van Tastic.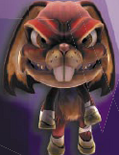 Ad blocker interference detected!
Wikia is a free-to-use site that makes money from advertising. We have a modified experience for viewers using ad blockers

Wikia is not accessible if you've made further modifications. Remove the custom ad blocker rule(s) and the page will load as expected.